Trends that will Impact the Fintech Realm in 2023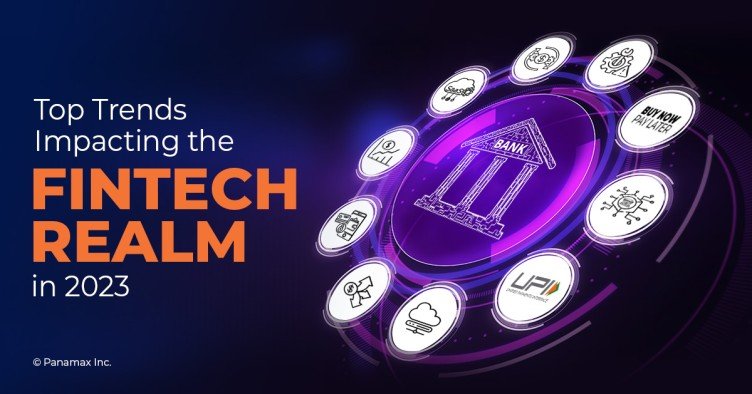 With the adoption of digital processes, the realm of fintech is set to evolve in the year 2023. The financial services industry and its ecosystem have developed, diversified, and grown more competitive during the last two years due to digital technologies that are upending traditional business models and specialized use cases. Consumers and businesses across the globe have adopted digital banking and FinTech platforms due to the pandemic-induced push for digital adoption, 5G-enabled handheld devices, faster and more ubiquitous internet connection, and the government's push for a digital economy.
For banks, FIs, and aggregators, it is necessary to have a keen eye on the changing fintech trends as it will determine the prospects. In addition, leading banks are looking forward to 'humanizing' the banking process to render a more personalized experience to consumers. This blog will discuss the top fintech trends that will make it big in 2023 and the future.
The Growth of SaaS Platforms
The growth of SaaS platforms has been unprecedented, and the industry is expected to be at $623 billion in 2023, with a growth rate of 18%. Software as a Service (also known as SaaS) allows organizations to avoid the labor-intensive management and installation of complex software and hardware. Platforms for the Fintech industry enterprises offer better customer experiences and quicker product delivery, increasing user and customer satisfaction. In 2023, we anticipate that the number of low-code or no-code solutions, white-labeled SaaS, and micro-SaaS products will rise.
Embedded Finance Will be Big in 2023
The embedded finance ecosystem is vast and is anticipated to expand greatly this year. Businesses can boost customer happiness and income by providing comprehensive offers throughout a client's journey with embedded finance. Financial services include banking, credit, investing, processing payments, lending, and insurance. Consider an online retailer that offers insurance through a simple, convenient, and seamless client experience.
Buy now pay later (BNPL) is a field of embedded finance rapidly expanding across the board. This payment method allows customers to place an order today and pay for their purchases later, typically in a series of payments.
Regulatory Technology Will Get More Acceptance
Regulatory Technology, also known as RegTech, has gained everyone's attention in recent times and will grow its horizon in 2023. It's a branch of the fintech industry that uses technology to monitor regulatory processes. Businesses in the RegTech sector typically deal with tracking, reporting, and compliance-related issues.
By 2030, it is predicted that the RegTech market will reach a startling $44 billion. In contrast, in 2021, it was only valued at $8.2 billion.
For the growth of RegTech, FinTech development is necessary. The fact that more services are becoming digital is astonishing, but there are also more significant concerns. Fraud, hacking, data breaches, and other potential risks thrive in the unregulated digital financial ecosystem. Therefore, financial institutions are constantly under pressure.
Greater Market Penetration of Open Banking
An innovative banking technique known as "open banking gives third-party API service providers free access to financial data from banks and other financial organizations. Banks and financial institutions can significantly customize their offers thanks to open banking solutions and access to account information. For instance, the bank may suggest a loan based on your income and creditworthiness if you are saving for a new automobile or a tempting lease.
Below are some of the significant gains of the proper implementation of Open banking:
Marketplaces
With the aid of open banking, banks may now create end-to-end solutions for their marketplaces. Customers can select the services they want to connect with, including savings accounts and pension programs. This sharpens the emphasis on the consumer and enables banks to provide them with relevant and timely solutions.
Affiliate Networks
Banks may now give their customers a new feature: accessing their account data from many banks in a single application. This is possible because banks are involved in a single regulatory system that permits them to share consumer information.
Digitization
Because the Open API is made of high-quality software, banks incorporating it will modernize their tech stack, giving them a competitive edge against fintech firms.
Business Expansion of Blockchain Technology
Blockchain technology, also known as Distributed Ledger Technology (DLT), makes it easier to store, share, synchronize, and distribute data among a distributed network of users. It forms the basis of several cutting-edge technologies that are being introduced to the financial markets.
Blockchain technology is way beyond the horizon of just cryptocurrencies. Let's examine the key areas where blockchain technology is having an impact on the fintech industry.
Decentralized
FinanceDeFi approach uses deterministic smart contracts, which dramatically enhance efficiency, transparency, and security while lowering the danger of intermediaries just in it for their financial gain. It is a word used to describe software systems that do transactional data validation automatically, thus eliminating the need for intermediaries.
Zero-Knowledge Proof Authentication
Zero-knowledge authentication techniques are yet another novel use of blockchain in the fintech industry. Customers currently must divulge vital information to authenticate their identity online. Online users can share the required information for each transaction using zero-knowledge proof authentication, while other data is kept secure on the server of a reputable supplier.
Final Thoughts
The fintech industry is anticipated to keep developing into 2023, with several exciting trends emerging that may alter how people manage their finances. Additionally, as more firms see the potential of technology when aiming to support employees, financial well-being is becoming an increasingly important trend in the fintech sector.
The economy calls for greater financial inclusion, which can be accomplished through technological innovation and regulatory framework extension. The protection of user information and funds will inevitably become more difficult due to the impending openness. Economic growth can be boosted by a coordinated effort by fintech, banking, non-banking, and government organizations to improve outreach and security and make credit more accessible.
This blog is originally published on Panamax Inc.